FATIU Awards
Gordon Shaffer Award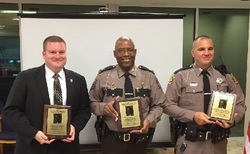 The Gordon Shaffer award is handed out each year at our annual business meeting each January. This award is dedicated to the memory of NATB (now NICB) Special Agent Gordon Shaffer who was killed on duty during an inspection of a suspected stolen vehicle. This is given to those law enforcement officers that have solved auto theft related crimes that lead to a large recovery value, or those law enforcement officers that go above and beyond in the line of duty while conducting investigations in auto theft related crimes. To nominate someone you know for the Gordon Shaffer award, please submit a case synopsis with detailed information pertaining to the investigation, convictions and recovery amount to
staynor@fatiu.org
.
Trooper George Seiler, Auxiliary Captain Charles Sampson, and Investigating Trooper Thomas Wenzel
This year's Gordon Shaffer award was presented to Florida State Troopers Thomas Wenzel, Auxiliary Captain Charles Sampson, and Investigating Trooper George Seiler.
On June 28th 2014 Captain Charles Sampson was on patrol on Interstate 95 in the area of West Palm, Florida. Captain Sampson noticed a suspicious tractor trailer south bound on I-95 and requested assistance. Trooper Wenzel responded to assist Captain Sampson which made contact with the tractor trailer as it stopped in the emergency lanes of I-95. During the contact Capt. Sampson noted that the driver, later identified as Harley Guzmeli-Vazquez, was acting suspicious and reaching into his waist band. A second co-conspirator was later located inside the tractor identified as Francisco Martinez, both subjects were secured.
Capt. Sampson and Trooper Wenzel's investigations reviled that the trailer and cargo were recently stolen from Baker County, Florida. The trailer was attached to a tractor which was also stolen and discovered abandoned in North Florida. The suspects had disguised that stolen trailer by switching license plates and attaching their own tractor. They recovered evidence to include a GPS jamming device, burglary tools, and numerous brands of tractor keys.
Investigating Trooper George Seiler assumed the investigation for the Florida Highway Patrol Cargo Theft Task Force. Trooper Seiler has located evidence to establish that the suspects are connected to multiple thefts in Polk, Orange, and Lee Counties. The suspects have also been found to be arrested for operation of a chop shop related to Semi-tractor thefts in Miami, Florida.
The attention to detail and investigative efforts of the three mentioned law enforcement officers is a great example of how a small act can combat auto thefts throughout the state.
---
Karen Reyes Investigative Award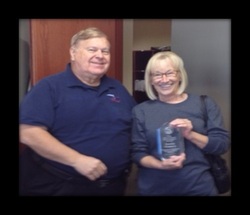 The Karen Reyes Award is handed out each year at our annual business meeting each January. This award is dedicated to the memory of former Florida Highway Patrol Trooper and Division of Motor Vehicles Field Supervisor Karen Reyes. This is given to those individuals who have investigated title or odometer fraud related cases that result in an extraordinary recovery value, or arrest and conviction of multiple individuals, or for those individuals that assist law enforcement or SIU investigators in the investigation of those cases. This award is open to all DHSMV members, insurance investigators and law enforcement officers throughout the state. To nominate someone you know for the Karen Reyes award, please submit a case synopsis with detailed information pertaining to the investigation, convictions, and recoery amount to
staynor@fatiu.org
.
Pictured: Patricia Giumarra receiving the Karen Reyes Award from Donn Lund, FLHSM Administrator
The 2014 Karen Reyes Title and Odometer Fraud award was given to Patricia Giumarra, Retired FLHSMV. Pat was hired as a clerk and worked her way up to Regional Administrator of the Deland, Region IV office. Over the years, Pat has used her knowledge of FLHSMV Policies and Procedures and Florida Statutes to assist LEO in everything from Administrative Actions against FL licensed motor vehicle dealers to criminal cases resulting in jail time for suspects.
Pat's tireless efforts over they years included inspections of junk yard and salvage lots, audits of dealers, title research and vehicle inspections looking for fraudulent and stolen documents and parts. Her most impressive endeavors include the annual Daytona Beach Bike Week and Biketoberfest events held in Volusia County each year. She and her team assisted the task force with searching for stolen/altered motorcycles, pulling title histories and stopping curbstoners from selling illegally in the County.
Congratulations Pat! This award is well deserved and exactly what the criteria for the award was based on! Enjoy your retirement!
---